Ballard R-2 School is looking for substitute teachers for the 2019/2020 school year. If interested, or for more information, please contact the school at 816-297-2656.
The Ballard R-II School District is pleased to be working in conjunction with the Adrian Optimist Club to honor a Student of the Month for the 2019-2020 school year. Student of the Month is selected by the staff of the Ballard R-II School District using the following criteria: attendance, attitude towards others and school, behavior, leadership, and . . .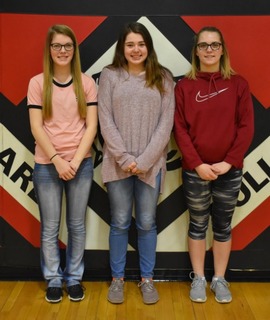 Three members of the Ballard volleyball team received the Academic All-State award for the 2018 volleyball season. They are senior Kelsey Pray, sophomore Sudie Callahan, and sophomore Serenity Morris. The requirements for Academic All-State are a 3.6 cumulative GPA from athletes entire career (include 2018 1st Semester) and played in 75% of varsity matches. Congratulations ladies! . . .