The Ballard-Johnstown Alumni Banquet will be held on Saturday, May 22nd at the Ballard School. Doors will open at 5:30, and the banquet will begin at 6:00. Please RSVP to Haley (Hill) Wainscott at 816-803-2014 or Carrie (Eidson) Scott at 660-424-9632. Also, please be sure to request a special table if it is a milestone reunion year for your class.

Ballard R-2 School is looking for substitute teachers for the 2020/2021 school year. If interested, or for more information, please contact the school at 816-297-2656.

We've had a great start to the 2020/2021 school year!
We will do our best to continue as normally as can safely be accomplished. To help with this, please do not drop your children off before 7:40 am. Outside doors will not be unlocked or staffed until this time. Also, all visitors are required to wear a mask and are not allowed in the building past the office. Thank you, parents and community, for your help and support in providing a safe environment for all students.
GREAT NEWS! The Ballard R-II School District has received notification that the USDA (United States Department of Agriculture) has provided waivers allowing our school district to serve free meals to all children, ages 1-18, into the fall. This means that starting Tuesday, September 22nd, all meals for ALL Ballard School District students are free until further notice.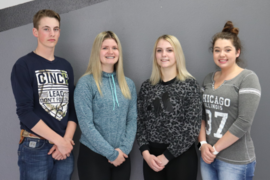 Four students received awards in the basketball. They are pictured to the left (L-R): Sophomore Tucker Roach received Honorable Mention All–Conference and Honorable Mention All-District. Sophomore Lexie Ward received Honorable Mention All-District Senior Serenity Morris received Honorable Mention All-Conference and Honorable Mention All-District . . .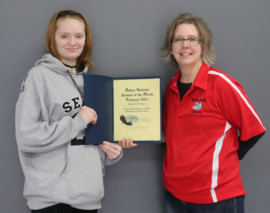 The Ballard R-2 School District is pleased to be working in conjunction with the Adrian Optimist Club to honor a Student of the Month for the 2020-21 school year. Student of the Month is selected by the staff of the Ballard R-2 School District using the following criteria: attendance, attitude towards others and school, behavior, leadership, and improvement in or maintenance . . .