Ballard R-2 School is looking for substitute teachers for the 2020/2021 school year. If interested, or for more information, please contact the school at 816-297-2656.
We've had a great start to the 2020/2021 school year!
We will do our best to continue as normally as can safely be accomplished. To help with this, please do not drop your children off before 7:40 am. Outside doors will not be unlocked or staffed until this time. Also, all visitors are required to wear a mask and are not allowed in the building past the office. Thank you, parents and community, for your help and support in providing a safe environment for all students.
GREAT NEWS! The Ballard R-II School District has received notification that the USDA (United States Department of Agriculture) has provided waivers allowing our school district to serve free meals to all children, ages 1-18, into the fall. This means that starting Tuesday, September 22nd, all meals for ALL Ballard School District students are free until further notice.

Virtual Learning
The Ballard R-II School District supports opportunities for all students to participate in all approved virtual learning courses. In addition, Ballard R-II participates in the Missouri Course Access and Virtual Program or MOCAP. For more information about Ballard's participation in the Missouri Course Access and Virtual Program, please refer to Board of Education Policy/Regulation 6190, available on this website.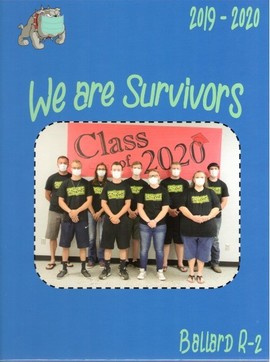 2019-20 Yearbooks on sale Now! Not just a High School Yearbook There are two ways to purchase a yearbook. You may return an order slip and $36.00 per book with your student and the yearbook will be sent home to you. You may come and purchase the yearbook when you visit the office. If you missed a year - we have yearbooks from previous years available . . .
As Ballard R-2 School District transitions into the 2020-2021 school year, there are many unknowns in the educational world. However, in the midst of uncertainty, the district knows that families and communities need schools to be ready to reopen as soon as possible with guidance from local health officials. These past several months have served as a great reminder of the role that public schools play in ensuring an . . .